By Minnie Larry
Barclays Center, Brooklyn, New York
Mikey Garcia (37-0, 30 KOs) won a unanimous decision over former four-time division champion Adrien "The Problem" Broner (33-3, 24 KOs). The bout started off slow, with the counterpunchers both feeling each other out. In the 2nd round, Garcia started to land more effectively with body shots.
In the 3rd, Garcia landed combinations Broner shook off. Broner would land shots here and there, but did not seem to want to exchange with the younger Garcia. In the middle rounds, Garcia would begin to open up with combos to Broner's head and body. By the 5th round, Broner landed several shots striking Garcia. However, Garcia would answer with a blend of his own, causing Broner to go back into his shell.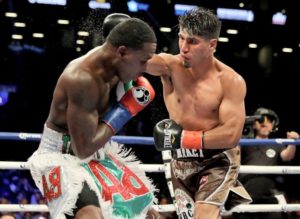 Broner perhaps, drained from his drastic weight loss- never got his bearings. Garcia mentioned (during camp), after reviewing Broner tapes, he believed he was a step above the former 4-time world champion.
He would continue his attack while Broner would stay true to bombastic form, laughing and shaking his head (back and forth)- all the way to his 3rd career loss. Broner would pick up the pace in the championship rounds, but it was too little too late. Garcia gets the 'W' by unanimous decision. The judges had it 117-111 and 116-112 2x.
After moving up to 160 pounds, Jermall Charlo (26-0, 20 KOs) brings to an end, Sebastian Heiland's (29-5-2, 16 KOs) 8-fight winning streak with a stunning 4th round knock-out. In the 1st round, Charlo established his dominance with a strong jab. Charlo continued his solid performance- knocking Heiland down in round 2.
In round 3, Heiland's left leg appeared injured, prohibiting him from landing anything substantial. In between rounds, Heiland's corner refused to acknowledge their fighter's injury and sent him back into the 'lions' den. Charlo battered his wounded opponent into submission with a second knockdown in the 4th round. The fight was called due to Heiland's inability to put weight on his left leg.
Post-fight
The New York Boxing Commission stated Heiland had an unknown pre-existing left leg condition. The injury was discovered after the NY boxing commission requested Heiland remove the tape from around his (left) leg, before entering the ring.