Deontay Wilder (39-0, 38KOs) left a capacity Barclays crowd dazed after a remarkable 1st round knockout win against former WBC Champion Bermane Stiverne (25-3-1, 21KOs).  Wilder removed all signs of ring-rust when entered the ring and instantly began pounding an overweight and out-classed Stiverne.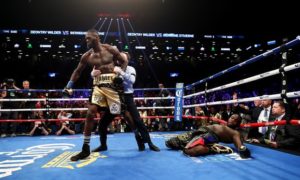 Wilder delivered a stiff left jab, straight to Stiverne's frontal lobe. Stiverne did little to discourage the over- eager, bullseye focused Wilder. The obvious frustration of missing out on two prearranged high profile fights with Luis Ortiz and Alexander Povetkin showing (due to PED violations), the bronze bomber unleashed pinned up fury.
If the "Bronze Bomber" felt he had something to prove, he did it with refreshed fervor-  sending Stiverne down in the first minute of the bout. With an unyielding one- two, Stiverne was forcibly knocked backward, ultimately tumbling into the ropes.  Stiverne would answer Referee Arthur Mecante Jr.'s count. While the first knockdown was impressive, The Alabama heavyweight extended a wild right hand- fit together with a straight left, hurling Stiverne back to the canvas. Wilder, seemingly unfazed by his challenger answering the call; charged in and landed a right-left-right combination catapulted the former WBC Champion back to mat in a flailing heap.  Arthur Mercante Jr. would call the fight, ending it at 2:59.
During Wilder's post fight interview, he called for a unification bout with Anthony Joshua- bequeathing the IBF, WBA and IBO titlist with a new moniker "A" "Juicing" "Joshua." Wilder exclaims fighting anyone other than Joshua would be below his standard, deeming those fighters "peasants"-stating "Kings should fight Kings."
Shawn Porter (28-2-1, 17 KOs) defeated Adrian Granados (18-6-2, 12KOs) with a broken hand to become the #1 contender for the WBC and WBA Welterweight Champion, Keith Thurman.  Porter and Granados put on a contest in which neither backed down. They threw punches in close quarters, only taking breaks between bells.
Porter took control in the middle rounds with a strong jab and counter hook.  In the later rounds, Granados would press the action but Porter-; through movement and a good counter hook, was able to keep Granados at bay.
In Round 9 or 10- Porter hurt his left hand rendering it useless, which allowed Granados to get back in the fight. The late surge of energy and over the top grandstanding did not close the gap enough for Granados to make any impact on the judges. Porter gets the "W" in a unanimous decision from the judges 117-111 3x. Porter becomes the mandatory contender for Keith Thurman.
Sergey Lipinets (13-0, 10KOs) won a unanimous decision over Akihiro Kondo (29-7-1, 16KOs) gaining the IBF Junior Welterweight World Championship- formerly held by Terrence Crawford.  Lipinets took the fight to his opponent exacting pressure points, disrupting Kondo's rhythm. In round 6, Lipinets suffered a cut above his eye causing vision problems throughout the remainder of the fight. In Round 12, Kondo would not go out without a final push- battling Lipinets to the ropes. Kondo's 12th round magic did little to persuade the judges who scored the fight for new IBF Junior Welterweight Champion, Lipinets. The scores were: 118-110, 117-111, and 117-111.