By Minnie Larry
Pinnacle Arena Lincoln, Nebraska.
The ring walk
Sporting his beloved Nebraska Cornhuskers #140 football jersey, the Omaha natives' swagger-infused ring walk says so much about the man. There have been a few boxers to come out of Nebraska, but none would rise to the level of 'Bud' Crawford.
He wears his hometown pride in his soul, not as an adornment to be put on and taken off. Crawford lives and breathes his birthplace and its clear to see his turf has inbred a tenacity, ethic, and identity only the gloved one possesses.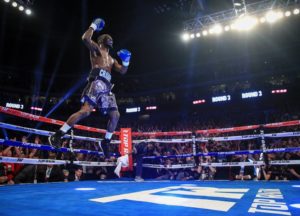 Once Crawford enters the ring, the camera peers at a nondescript man wearing a Nebraska #27 jersey standing in the crowd. This man is draped in red, just like his brother-men, jam-packing the arena. As the camera searches his features, onlookers can tell there's a sadness decorating his life-worn features. The audience at home learns, the man; Gerald Foltz, is the father of 22- year old Sam Foltz, the Nebraska Cornhusker punter who was tragically killed in a July 23, 2016 car crash. Crawford dedicated the fight to Foltz and all of America.
"I want to thank everyone who came out. I want to thank Nebraska (and) America. I did this for all of us," Crawford tells the crowd.
Crawford embodies the best of what it means to be a boxer, and moreso the best of what it means to be an American.
In what hasn't been done since 2005, a new chief reigns at the helm of the undisputed boxing world. In magnanimous fashion, WBC and WBO junior welterweight champion Terrence Crawford (32-0, 23KOs) pommeled the IBF and WBA champion Namibian born, Julius Indongo (22-1, 11KOs) into a 3rd round submission.
Round 1, saw a focus- driven Crawford take little time sizing up his opponent. He landed a counter left buckling Indongo's legs. Indongo for his part, appeared frenzied- shooting in and out without focus. The punches Indongo did land, had no power behind them.
In round 2, with pinpoint precision, Crawford would continue to walk down the frantic Indongo. Toward the end of the 2nd, Crawford caught Indongo with a left to the dome sending the auspicious Namibian to the canvas. A dazed and dizzied Indongo would answer the 10-count but not before absorbing more punishment.
In round 3, Crawford steered a body shot reminiscent of 'The body snatcher' Mike McCallum, showing Indongo to the pad for good at 1:38.
"We've been practicing body shots all camp," stated Crawford post fight.
For Crawford the future is open, being the undisputed champion has its advantages. "Belts matter, I'm the only one who can be labeled as champion at 140. That's a big deal to me."
So what's next for the champ? He can stay at junior lightweight or move up to welterweight where Keith Thurman, Earl Spence Jr, Manny Pacquiao, and Jeff Horn would await his arrival. However, for Crawford its quite simple, "I'm going fishing next."
In other action, Newark, New Jersey's Shakur Stevenson (3-0, 1KO) garnered a unanimous decision win over David Paz (4-4-1, 0KO) in a 6- round featherweight bout. In the technical win earned in his debut fight with Edgar Brito (3-3-1, 2KO), Stevenson left no room for doubt about his boxing abilities. During the April 22, 2017 match, ring doctor, Paul Wallace, stopped the fight between the 5th and 6th rounds; due to Brito sustaining a right eye injury due to a clash of heads.
The improved Stevenson made great use of space and body work proving his knowledge of the game. Paz, however, would inject referee Ruiz into the match by spitting out his mouthpiece several times. Paz could not defend himself against the rush of blows which ultimately sent him drifting to the mat in the 5th. The up and coming southpaw, Stevenson, would get the 'W' with all three judges scoring 60-53.