By Minnie Larry
Barclays Center, Brooklyn, New York
On Saturday night, Erislandy Lara (25-2-2, 14KOs) won a unanimous decision over 2012 Olympian Terrell Gausha (20-1, 9KOs). The fight was a typical Lara affair, with Lara landing shots on Gausha from the outside.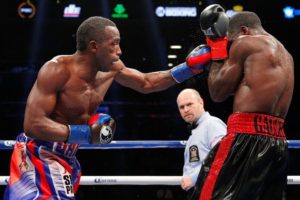 In round 4, Lara landed a right and left combination which sent Gausha to the canvas. Gausha would answer the referee's count and finish the round. Lara used his superior defensive skills to make the younger Gausha miss most of his punches. Compubox had Gausha landing 77 out of 329 punches to Lara's 121 out of 528 punches, a dismal 23% .
In round 7, Gausha managed to land a right which caught an off balance Lara. However, Lara would quickly recover. In contrast to the earlier bouts in the evening, the contest saw little to no action which caused the crowd to boo both contestants. The fight would go the distance, and all three judges ruled the bout in favor of Lara, 117-110 2x, and 116-111.
Charlo vs. Lubin
"And it's over," two minutes and 41 seconds of the 1st round, is all it took for Jermell Charlo (30-0, 15KOs) to knock out Erickson Lubin (18-1, 13KOs). Charlo landed a short right hand to Lubin's chin that left Lubin twitching on the mat. In turn, referee Harvey Dock waived the fight off.
In other action, IBF Junior Middleweight Champion, Jarrett Hurd (21-0 15KOs) stopped former titleholder Austin "No Doubt" Trout (30-4, 17KOs) in the 10th round. Trout started off strong employing angles to confuse Hurd for the first two rounds.
In Round 3, Hurd would start off strong with a quick jab and strong right which sent the veteran Trout to the ropes. Trout, however, would slip away from Hurd's punches and land a series of his own that confused the younger Hurd.
In rounds 4 and 5, Hurd would follow Trout, abandoning all defensive skills. Trout in turn, would land at will. In round 6, Trout opened a cut above Hurd's left eye seemingly awakening the champ.
In round 7, Hurd began to put his weight behind his punches hurting the smaller Trout. Hurd continued to put a hurting on Trout in rounds 8 and 9. By round 10, Hurd would batter Trout into submission forcing the ringside doctor to call the fight 20 seconds into the round.