By Minnie Larry
If you ask the average boxing fan to name the top-rated flyweight in the world, many would have a difficult time. Boxing's flyweight division rarely achieves notice in an era where terms 'pound for pound' and 'greatest of all time,' are strewn about. While the division lacks mainstream notoriety, the best in class made his way up the ranks without the traditional hype or fanfare.
Muhammad "Falcon" Waseem is the first Pakistani born boxer to hold the WBC Silver Flyweight title. With that, Waseem bears the pride and joy of his countrymen. However, boxing is still not a revered pastime in his culture, especially when likened to the country's more prominent sports; cricket and football.
"When I began, I had no country support. I had many struggles, no food, and my family gave me no support because there was no future in boxing," said Waseem.
Wanting a stronger footing in the International competitive arena; The Pakistani Sports Board was birthed. Established in 1962, the panel was tasked with 'developing and promoting uniform standards of competition; equivalent to standards and scale of International competitive athletics.'  The site lists "Pakistani boxing" as lacking necessary equipment, non-standardized training facilities, and an absence of promotion as some of the reasons the country's pugilist's haven't improved to a more noticeable contending level on the worldwide stage.
Pakistan has boasted great boxing talents in its past: Abdul Samad Mir, Haider Ali, and the most notable- Syed Ibrar Hussain Shah, just to name a few.  But Muhammad Waseem is Pakistan's first and only professional ranked fighter in the 21st century. However, climbing the ranks as boxing's brightest hasn't come easy for the Silver Flyweight Champion.
Long before "The Falcon" began gaining notoriety around the world for his boxing prowess, the starving pugilist had proven his aptitude for representing his hometown of Quetta. The 2nd oldest of six boys, Waseem started off as a street fighter before formally starting boxing training at the tender age of 16. He trained at the gym next to his home, where his love for boxing would get him into a lot of trouble with his parents.
Ultimately, he would move nine hours away to attend the Karachi National Camp. It was there that he would meet and befriend other amateurs staking their claim in the marginalized sport. When the amateur team began winning titles internationally, it was hard for the nation to not take notice of its pool of talented prizefighters.
"We have many fighters in our country. There are very good fighters in Pakistan, but because there was no support, (we started off) dealing with mosquitoes, no food, and slept on dirty beds," said Waseem.
But as luck would have it, the Pakistani people would rally behind their fighters and accept the broadening sport.
As an amateur boxer, Waseem would win a bronze medal for Pakistan at the 2010 Commonwealth Games in New Delhi, India. Not only did he gain the support of Pakistan, but more importantly, his father told him his family was very proud of him when Waseem gained a sponsor who paid him $15 per month.
Waseem's victories emboldened a 19-year-old brother to take up boxing.
"First time he came to my gym I kicked him out. I told him to stop boxing because I struggled so hard boxing for my country. You will have support. Go and get a great a job, work hard, go to school and study.  But he saw me on TV and people wanted pictures with me, so that's why he wanted to box," recalled Waseem.
Waseem would go on to represent his country in various international tournaments. His medal count went on to be 5 Bronze, 2 Silver, and 2 Gold before he turned professional.
In 2015, Waseem turned professional- establishing a 3-0 record before fighting flyweight veteran Jether Oliva for the vacant WBC Silver Flyweight title under the tutelage of famed boxing trainer Jeff Mayweather, who was recruited by Waseem's promoter Andy Kim and Lee Bates after Bates ran into him at a boxing seminar in Korea. From there, Waseem's hard work and dedication impressed the famed boxing trainer.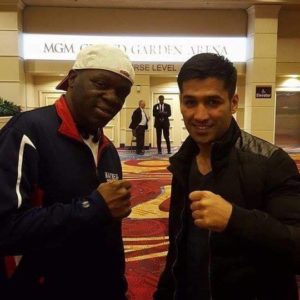 "He works extremely hard; don't need to be watched at all. He has tremendous confidence in his ability and I have tremendous confidence in mine, so we feed off each other's confidence," Mayweather explained.
That close relationship led to Waseem defeating Oliva and winning the WBC Silver Flyweight title by unanimous decision sending Pakistan into a frenzy. He was christened the name "Falcon," a "Shaheem" in his native tongue, given to him by the Pakistani people. This alias given to those of high character is a supreme homage Waseem wears honorably.
Waseem's first defense of his WBC Silver title came against the undefeated Filipino prodigy Giemel Magramo (18-1, 14KOs). The fight would go the distance, with Waseem attaining a unanimous decision win. Although he won, the bout had two unintended consequences; first his mother upon seeing pictures of his face, had his brother take her to the hospital to which she was admitted for several days. Waseem understands the toll it takes on her, so making sure she is well sequestered before every fight is imperative.
The second consequence was a six-month layoff due to a lack of sponsorship. Although he was the Silver Flyweight Champion, conditions at home did not change. Pakistani boxing still lacks full government support. In December 2016, Pakistan's Prime Minister Nawaz Sharif approved a grant of 30 million Pakistani Rupees for training and travel. Dr. Akhtar Nawaz Ganjera, Director General of the Pakistan Sports Board, claimed 'the grant would provide monies for the Waseem camp; training and travel.'
However, by the close of 2016, the two-time Silver Flyweight World Champ would not see the reinforcements promised him by the Pakistani and Baluchistan (Federal) Governments. It wouldn't be until April of 2017, when funds in the amount of 20 Million Rupees ($190,078.200 US dollars), would become available, for Waseem to continue in the sport.
On July 5, 2017, the dominant up and comer participated in the first of two "tune up" fights mandated by the WBC before becoming eligible to battle for the Gold Title; in September 2017. The "Falcon" soared to victory against outclassed Panamanian opponent, Eliecer Valdez (3-9-2, 2KOs) at the Fantastic Casino de Albrook Mall in Panama City, Panama. Waseem did not leave the zealous crowd waiting too long before their glove-game appetites were quenched. After the opening bell, Waseem took to his power stance, delivering body blows which ultimately sent Valdez to the deck. By the 2nd and final round Valdez folded, effectively succumbing to blistering body shots.
Waseem understands the weight of the nation his shoulders now bare. The rising tension in his hometown of Quetta keeps young Waseem in a state of attention. Far from the days as a kid where he'd street fight around the city, much to his parents disapproval, the same roads are now paved with the ghostly blood of his kinsman; unwitting beneficiaries of surging violence.
In October of 2016, terrorists (groups whose names will not be mentioned here) purportedly killed 60 and injured nearly 200 at Quetta's police training college. The US Department of State Bureau of Diplomatic Security (OSAC) office revised the threat warning in the city, asking US citizens with 'non-essential' business in and around Pakistan to forego traveling to those parts.
"The U.S. Consulate General in Karachi wishes to advise U.S. citizens about a heightened threat level in the near term affecting Pakistani government and military installations, hotels, and Western interests in and around the city of Quetta."
Waseem fears his popularity could cause unwanted reprisals against him and his family. "In Quetta, now they're killing too many people and I worry about that. It is very dangerous for me and my family at this moment."
Now, as Waseem stands at the steps of super stardom, all he can think of is how winning would reinvigorate his people. "There's no big title like this in 70 years, so we need this, I need to win this title for my country. We need this belt."
The top ranked WBC Flyweight in the world has garnered national admiration, but there's more than fame at stake. With his eyes on prize, Waseem prepares for a title date with undefeated WBC Flyweight Champion Daigo Higa (13-0, 13KOs).
*The second of Waseem's tune-up fights happens Saturday, July 29th 2017 in Chiriquí against Ivan Trejos (7-7-2).