By Jody Kohn
The Nevada Boxing Hall of Fame will induct its newest class on August 12 in Las Vegas.  The induction dinner will wrap up an exciting weekend that also includes a meet and greet as well as an amateur tournament.  For boxing fans, the entire weekend is a great experience, allowing them to rub elbows with past greats, current fighters, and future legends all at once.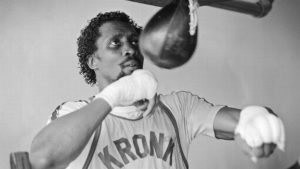 This year's star-studded class includes Michael Carbajal, Thomas Hearns, Erik Morales, Ken Norton, Lucia Rijker, Salvador Sanchez, Richie Sandoval, Leon Spinks and Michael Spinks on the boxing side.  For non-fighters, Rafael Garcia, Dr. Elias Ghanem, Mel Greb, Debbie Munch and Davey Pearl will be honored.
Besides these greats, many other legends are expected to be in attendance.  Sugar Ray Leonard, Floyd Mayweather, Evander Holyfield, Roy Jones and many more have been at past events. You need to keep your head on a swivel as so many legendary figures can be seen walking around.
The NVBHOF also honors current fighters with Kevin Newman II, Layla McCarter, Latondria Jones and Shawn Porter receiving recognition.
Hosting the event will be the legendary Al Bernstein along with Crystina Poncher.
Jon Hait, a board member of the NVBHOF appeared on the Mayweather Boxing Show last week to discuss this tear's festivities, as well as to give a rundown of what they are all about.
This event is a great chance to see boxing's biggest stars all in one place.  To get tickets, or to learn more, check out their website HERE.